Stop the National Patient ID & Vaccine Database
Don't let Big Brother or Crony Businesses Discriminate Based on Health Status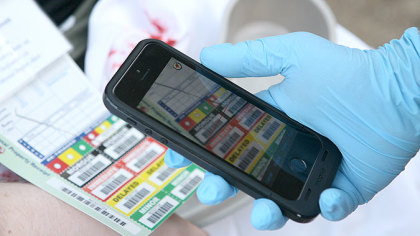 Congress is about to unleash tracking of patients and their vaccination status, and we need SUPPORT for Senator Paul's bill to stop the national Patient ID and OPPOSITION to Representative Kuster's bill to track vaccination status.
SCROLL TO THE BOTTOM TO ENTER YOUR ZIP CODE TO SEND NHF'S EMAIL!

On the first bill, despite authorization under the 1996 Health Insurance Portability and Accountability Act (HIPAA), former Congressman Ron Paul inserted successfully every year an amendment withholding funding for implementation of the Unique Patient Identifier for every patient, provider, employer and healthplan. This year the appropriations bill funding the Health and Human Services Department lacks any such limitation - hence the need for passage of Senator Paul's bill, S. 3124.[1] Usable for whatever purpose desired by the HHS Secretary, a national Patient ID would leak as most government databases do - exposing our most personal medical information - and become a tool for the growing surveillance state. When opposing this privacy threat in the 1990s, Congressman Paul said ID proponents admitted it would allow institutions to track vaccines we have and have not received - leading to a medical caste system where those who ignore the advice of "experts" are denied opportunities. Such a threat to living a normal life will discourage the willingness of patients to confide truthfully with their doctors, harming health.[2]
This year the second bill (H.R. 550) arose as a threat. Representative Kuster's bill would establish a federal database funding local health departments to track vaccination status - to pressure the unvaccinated to comply with Centers for Disease Control recommendations. Another disturbing part of this bill would farm to unaccountable, private "partnerships" unlimited "implementation support".[3] Databases existing already for this purpose on the state level have leaked, jeopardizing the privacy and security of one's personal health information.[4] As with the Patient ID, the vaccine database can only enable nefarious discrimination against healthy Americans who decline to participate in Pharma's draconian vaccine mandates.
Please stop these assaults on patient privacy, choice and health. Support Senator Paul's bill and oppose Congresswoman Kuster's.
SCROLL TO THE BOTTOM TO ENTER YOUR ZIP CODE TO SEND NHF'S EMAIL!
Links:
[1] https://www.congress.gov/bill/117th-congress/senate-bill/3124/titles
[2] https://www.paul.senate.gov/news/dr-rand-paul-introduces-legislation-repeal-national-patient-id-protect-americans-medical-0
[3] https://www.breitbart.com/politics/2021/12/01/exclusive-tool-to-enforce-orwellian-rules-80-house-republicans-help-pass-bill-to-fund-federal-vaccination-database/
[4] https://www.cnn.com/2021/08/24/tech/data-leak-microsoft-upguard/index.html
[5]
https://www.mercurynews.com/2021/06/07/privacy-concerns-rise-amid-californias-rising-tide-of-vaccination-records/
First, Enter Your Zip Code