REPEAL OBAMACARE
(Patient Protection and Affordable Care Act)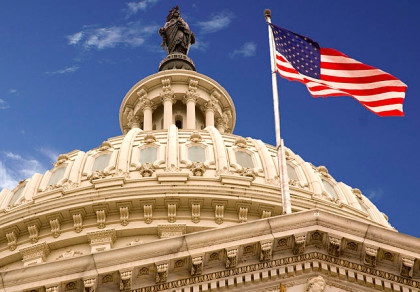 Yesterday, and by a 5-4 vote, the U.S. Supreme Court barely upheld Barack Obama's misnamed "Patient Protection and Affordable Care Act." While the Court rejected Congress having any power to enforce this individual mandate under the Commerce Clause, it did uphold the mandate as a "tax." The funny thing is that, when this Act was passed, both Barack Obama and those in Congress voting for it swore up and down it was not a tax. Yet, the Supreme Court just said it was a tax; and being a tax, could stay in effect.
ObamaCare has never been about health. It is simply about power and control, and enriching the big corporations with money from those people who can ill afford it, all while delivering a very inferior "disease-care" service loaded with drugs. The health-insurance companies love Obamacare! More customers forced against their will into a failing disease-care system.
Leaving aside the immorality of forcing individuals into a healthcare system they neither want nor would use, ObamaCare will never achieve its publicly stated goals. Make no mistake, this legislation, which the U.S. Supreme Court just upheld in its idiocy, is a massive extension of government control over our lives. The Constitution simply does not permit the Federal government to involve itself in any way in healthcare. Period.
Renew your pressure on your Congressional delegates. And demand that Congress truly repeal the ObamaCare monstrosity. Simply put, you and I must continue an uncompromising fight for health freedom.
It is time to allow a true free market in health care, while at the same time getting the Federal and other government attack dogs to back down from their assaults on natural health care, supplements, and other alternative treatments that "free" ObamaCare would push aside from the marketplace.
Do not allow this government decision to discourage your commitment to fighting for liberty.
Public Comments
Apr 26th, 2019
Liesl F. from Belfair, WA signed.
Apr 17th, 2019
Carl M. from Sierra Madre, CA writes:
Repeal the ObamaCare monstrosity!
Mar 27th, 2019
Someone from Hartford, CT writes:
Its helping NO ONE get the health care they need.
Mar 26th, 2019
Dean M. from Collinsville, IL writes:
It is against the Constitution.
Mar 14th, 2019
Despina T. from SIERRA MADRE, CA writes:
THIS IS ONE OF THE MOST ATROCIOUS DECEPTIONS PERPETRATED ON HUMANITY. WHO THE HECK ARE THE PEOPLE WHO "love Obama and ObamaCare". IT IS HELLTH -- and zero care.
Nov 6th, 2018
Sharon W. from Mount Pleasant, SC signed.
Nov 6th, 2018
Keith C. from Austin, TX signed.
Aug 10th, 2018
Aaron F. from Irvine, CA writes:
Forced healthcare is Unconstitutional and the works of a third world nation.
Mar 27th, 2017
Someone from Blue Bell, PA signed.
Aug 22nd, 2016
Ann M. from Chicago, IL writes:
Please show me where in the Constitution the authority is given, for the Federal Government to be involved in health care. I'll save you the trouble, it doesn't. It's quite obvious that the end goal is to lead us into socialized medicine. It's time to take a look at that oath you took when you became a public servant. You all have and continue to violate it. Do us all a favor and take a Constitution class before you continue to write laws.
Aug 19th, 2016
Someone from Princeton, NJ signed.
Apr 18th, 2015
Kari Y. from Irvine, CA writes:
Our country was built on freedom and freedom to choose. Let's keep it that way!
Mar 5th, 2015
Misha E. from Bonita Springs, FL signed.
Mar 5th, 2015
Misha E. from Bonita Springs, FL signed.
Feb 26th, 2015
Carol D. from Lake Jackson, TX writes:
GREED is in their hearts, Not LOVE!
Nov 4th, 2014
Someone from Portland, OR signed.
Oct 26th, 2014
Tim M. from Altoona, PA signed.
Aug 31st, 2014
William F. from Port Ludlow, WA signed.
Aug 23rd, 2014
Someone from Crossville, TN writes:
This is just continued fraud to rape and pillage the land, all in the name of greed. Those behind Obamacare continue to destroy lives under the guise of everyone having health insurance. It is time to do what is right in GOD's sight, not man's.
Jul 16th, 2014
Joseph S. from Siloam Springs, AR writes:
Worthless is the man who uses health as a way to control the masses.
Jul 12th, 2014
Judith D. from Pleasant Hill, CA signed.
Jul 10th, 2013
Someone from Springfield, OR signed.
Jul 10th, 2013
Someone from Huntersville, NC writes:
Repeal this massive tax now.
Jul 9th, 2013
josh h. from Imperial, MO writes:
Since its was written by the insurance companies, it doesn't sound like it was in favor for the people. It sounds like it was written to favor big corporations and big pharmaceutical companies. Just goes to show the arrogance and greed that is rampant in our world...
Apr 10th, 2013
Laura L. from Lincoln Park, MI writes:
No, I do not love the idea that this bill was drafted and forced on all Americans by a certain group of persons who know nothing about medical care, have never worked in a medical field, who openly claim to be athiest or worship a god that has died hundreds of years ago and advocate rationing medical care to only those they deem worthy of medical care. While at the same time these hypocrites have the best medical doctors and care at there fingertips funded by the same people they feel fit to ration and deny care to. I believe all or most Americans will fight this until these people are cornered and confronted on their abuse of power and their blatant inhumanity to humanity. Not only do we need to stop this travisty, we also need to hold all responsible for this travisty accountable. I have drawn a line in the sand and will fight to the death.
Feb 28th, 2013
Someone from North Kingstown, RI signed.
Dec 25th, 2012
Someone from Baltic, CT signed.
Nov 1st, 2012
Jesse B. from West Linn, OR signed.
Oct 3rd, 2012
Someone from Brooklyn, NY signed.
Aug 20th, 2012
Ted N. from Chicago, IL signed.
Aug 8th, 2012
Someone from Baldwin, NY writes:
Uphold Democracy - by the people and for the people!
Aug 7th, 2012
Marcy G. from Pismo Beach, CA signed.
Aug 7th, 2012
Jean W. from Parkersburg, WV signed.
Aug 6th, 2012
Dee C. from Santa Paula, CA signed.
Aug 1st, 2012
Someone from Morro Bay, CA signed.
Aug 1st, 2012
Bob R. from Largo, FL writes:
Stop the tryanny, repeal Obamacare.
Jul 26th, 2012
Elissa M. from Cookeville, TN signed.
Jul 25th, 2012
Jay P. from Oregon City, OR signed.
Jul 25th, 2012
Geanine H. from Nevada City, CA writes:
This is just another form of government managing our lives, decisions and basic freedoms of choice. Obvious uninformed persons making our decisions for us.
Jul 24th, 2012
cheri t. from New Braunfels, TX signed.