URGE CONGRESS TO OPPOSE FEDERAL VACCINE MANDATE!
Nuremberg Violation, Unconstitutional, and Unethical Actions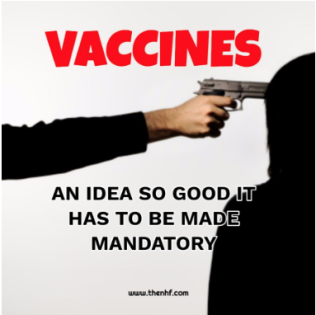 There is a nationwide move afoot to eliminate exemptions to mandatory vaccines and to even coerce all adults into submitting to mandatory vaccinations – all in the name of "health." And that move is based solely on junk science and contrived news. There is zero science or facts to back mandatory vaccines for adults or for anyone. If this move to inject us all with toxic substances weren't so serious a design upon our health, it would be laughable.
There is also no constitutional authority for Congress to even think about mandating vaccines. Any member of Congress who tries to mandate vaccines is breaking his or her solemn oath of office and should be expelled from office. Please take action now!
First, Enter Your Zip Code