Informed Consent
healthcare
travel
international
Let Travelers In Without Forced Experimentation!
International exchange is good for health

(And let Novak Djokovic play in the US Open!)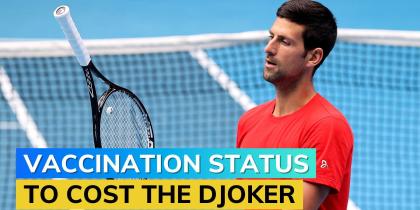 As the World in 2020 descended into lockdown, Oxford's Sunetra Gupta, who helped craft the monumental Great Barrington Declaration against the Covid hysteria, warned against the new bans on international travel, reminding folks that the science says global exchange helps to "build up defences against new and emerging viruses." Voluntary exchange beyond borders acts, indeed, as a natural "vaccine." But manufactured fear allowed power-hungry bureaucrats to isolate nations and the families within those nations. With all experts having learned since then, it is time to end all vaccine mandates, including for noncitizens traveling into our country. Please sign Congressman Gohmert's letter to do just that.
Exploiting fear and sabotaging livelihoods (while enriching the special interests), governments early in the Declared Emergency made an experimental vaccine the condition to "re-enter" society. While suppressing superior off-label treatments, governments and employers required this risky vaccination in order to work, learn, shop, or travel.
As 2021 ended, news came out about the millions of vaccine injuries and deaths. On top of that, these vaccines failed to prevent transmission, or even infection. In America, the mandates ended for all but Federal workers (including soldiers), hospital staff, and noncitizen travelers arriving into the U.S. As the heroic tech titan Steve Kirsch has written, the "safe and effective" narrative has collapsed.
To protect people from the government's unscientific, coercive requirements, the National Health Federation is promoting Mr. Gohmert's H.R. 5816, to gain a National Informed Consent Exemption from any vaccine connected Federally via licensing, mandating, funding, or regulating. And we ask that the current Administration immediately lift the executive order mandating full vaccination for otherwise legal travelers to the United States who are neither citizens nor immigrants.
Almost half the World's nations have lifted COVID-19 entry requirements, and as Professor Gupta said above, there existed no justification for them in the first place. Breakthrough infection and negative efficacy have led to the repeal of most mandates since. And now Insurance Company excess disability and death reports show the dire need to repeal the vaccines' authorization, let alone require travelers to risk grievous harm in order to fly into our country for lawful business, visit loved ones, or vacation.
Which brings us to tennis icon Novak Djokovic. Already Australia has egg on its face for its unscientific decision to deny entry into its famous tournament for unvaccinated players like Mr. Djokovic. Having just won Wimbledon for the seventh time, he faces this same vaccine entry requirement to play in this Summer's U.S. Open. American celebrity player John McEnroe said, "YOU CAN'T BE SERIOUS"! He is pleading for help to let Novak play.
Should our government choose politics over science, Novak once again will be used as a political football and traveling arrivals will continue to have to play a deadly Russian Roulette with a dangerous experimental vaccine. Instead, the pushers and promoters of these experimental injections posing as "vaccines" should be prosecuted for fraud, assault and battery, homicide, and mass murder, all to the fullest extent of the law.
Please pass Representative Gohmert's NICE Act and sign the letter to end the traveler's mandate.
First, Enter Your Zip Code