Help Repeal Obamacare - Act Now (H.R.6079)
FORCE HARRY REID'S HAND TO VOTE ON H.R.6079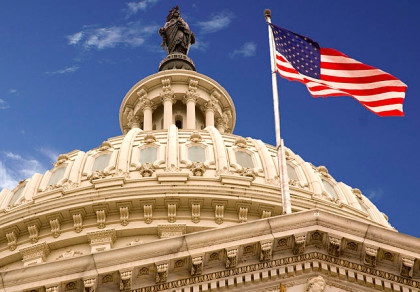 As you must know, the Senate has H.R.6079, the "Repeal of Obamacare Act" (otherwise known as the Patient Protection and Affordable Care Act), before it for consideration. The House of Representatives has voted thirty separate times to change or repeal the Affordable Care Act, only to have Senate Democratic leaders Harry Reid and Dick Durbin block any vote in the Senate.
I am writing to ask you to do the right thing and communicate my strong felt desire to Senators Harry Reid and Dick Durbin, and other Democratic Senators, to bring H.R.6079 up for a vote in the full Senate. As a taxpayer and voter, it is insulting that I have to even ask that Senators do what they are elected and paid to do. It is insulting that Senator Reid and Democratic leadership are putting politics and blatant partisanship ahead of what is right.
Senators are supposed to represent the views of their constituents and not use shady procedural moves to avoid voting on controversial matters, or to spin the individual mandate as a "penalty" when in fact it is a massive tax increase on middle-income Americans.
It is time to allow a true free market in health care, while at the same time getting the Federal government attack dogs to back down from their assaults on natural health care, supplements, and other alternative forms of medical treatments that "free" Obamacare will push aside from the marketplace. Instead of focusing on availability, Obamacare proponents need to be focusing on quality.
Obamacare is simply about power and control, and enriching the big corporations with money from those people who can ill afford it, all while delivering a very inferior government-controlled "disease-care" service loaded with drugs. Leaving aside the immorality of forcing individuals into a healthcare system they neither want nor would use, Obamacare will never achieve its publicly stated goals. It is a massive tax increase and extension of Federal government control over my constitutionally protected liberties.
The Senate must bring up H.R.6079 for a vote, and responsible Senators should vote to pass the bill.
Public Comments
Jul 25th, 2012
Merle D. from Fairfield, IA signed.
Jul 25th, 2012
Terri N. from Oceanside, CA signed.
Jul 25th, 2012
Cheri S. from Midlothian, VA signed.
Jul 25th, 2012
Yvonne T. from Arcadia, OH writes:
I think it's time for the people to have a say in what we want. Not what you feel is right for us. The only thing the government cares about is all the money they can steal from us hardworking people.
Jul 25th, 2012
Someone from Phoenix, AZ writes:
I don't trust it, I am not so much worried about the broccoli, but I am afraid that I could be forced to be treated for a condition or made to take a medication that I am against, and the list go's on. Without assurance I cant be for this bill, I have seen first hand on the state health care system, someone having to sign away the right to some medications they very much needed and others made to take medication just to get social security benefits when this person had a true disability, and could never work because of it and she had no family. And these are only a few examples from my perspective. I have not read the bill but just the same there always seems to be hidden things in these bills the public don't know about or understand. And I was layed off my job lost my insurance i have no children bad lungs, growths on my skin was reffered to see a lung and skin doc. i also have high collesteral, high blood pressure so one would think i would be all for it and another condition that will lead to cancer. So am I just nuts? to be against this maybe but more afraid of the bill. I am aprox. 50yrs old. l.s.
Jul 25th, 2012
Someone from Zelienople, PA writes:
Jul 25th, 2012
Dale B. from S Coffeyville, OK writes:
Above seventy, you are left to die.
Jul 25th, 2012
Walter F. from Milford, NH signed.
Jul 25th, 2012
Deborah P. from Memphis, TN signed.
Jul 25th, 2012
Deborah P. from Memphis, TN signed.
Jul 25th, 2012
D S. from Phoenix, AZ signed.
Jul 25th, 2012
DEBORAH S. from Oklahoma City, OK writes:
THIS IS A BIG GIVEAWAY TO THE INSURANCE, BIG PHARMA, HEALTHCARE, AND OTHERS. IT IS A BIG TAX, AND MORE THAN THE COUNTRIES LIKE ENGLAND PAY FOR "FREE" HEALTHCARE. HEALTHCARE WILL NOT BE ANY BETTER, JUST MORE COSTLY--IN MANY WAYS!!!
Jul 25th, 2012
OTESSA C. from Atlanta, GA writes:
OBAMACARE IS ABSOLUTELY NO CARE. IT IS DEATH CARE!
Jul 25th, 2012
Deborah N. from Elko, NV signed.
Jul 25th, 2012
ANN H. from Justice, IL writes:
Jul 25th, 2012
carol b. from Riverside, CA writes:
Iam a christian and we seem to have forgotten that it is ONE NATION UNDER GOD.Sooner or later it will all come crashing down and GOD will take over. This is a CHRISTIAN nation and believe me you people in goverment are leaving GOD outside and shoving HIM aside HE is giving us a chance to repent and get right with HIM the CREATOR OF HEAVEN AND EARTH HE gave us HIS SON JESUS who died on the cross was torchered whipped and spit on but if you don't know this that was for your salvation . Now is the time to get things right with GOD and repent.HALLELUJAH THE TIME IS NOW .HALLELUJAH.
Jul 25th, 2012
carol b. from Riverside, CA signed.
Jul 25th, 2012
Someone from Storm Lake, IA signed.
Jul 25th, 2012
Tammy A. from Minneapolis, MN signed.
Jul 25th, 2012
Someone from Laguna Beach, CA signed.
Jul 25th, 2012
Stephen F. from Middlefield, CT writes:
We need to focus on making people healthy, not getting coverage for a very ill population. Need incentives that drive docs and patients to weight loss and wellness, not rx drugs. We can't afford to carry on with the broken system we have and expanding it to everyone is just unaffordable.
Jul 25th, 2012
Someone from Indian Trail, NC signed.
Jul 25th, 2012
Robert S. from Massapequa, NY signed.
Jul 25th, 2012
Someone from Denver, CO writes:
Let's stop this government corruption once and for all.
Jul 25th, 2012
Someone from Alexandria, VA signed.
Jul 25th, 2012
Brenda B. from Spring Creek, NV signed.
Jul 25th, 2012
Robert C. from Lehighton, PA writes:
I'm sick of corrupt government trying to run my life.
Jul 25th, 2012
Darlene C. from Houston, TX signed.
Jul 25th, 2012
Andy B. from Schaumburg, IL writes:
I want the freedom to choose my own healthcare!
Jul 25th, 2012
Kathleen W. from Silver Spring, MD writes:
We depend on chiropractic, therapeutic massage, drug free protocols for our autistic son to keep him healthy and at home as a young adult rather than in an institution in four point restraints while strong pharmacological drugs are pumped into him as I have personally seen happen to other young adults with autism.
Jul 25th, 2012
Dorene P. from Stafford, TX signed.
Jul 25th, 2012
Brpther & Sister J.R. H. from Lebanon, KS signed.
Jul 25th, 2012
Someone from Centreville, MD signed.
Jul 25th, 2012
Scott K. from Pompano Beach, FL writes:
This bill is corporate welfare for the insurance companies, coupled with a massive power grab by Washington. It must be overturned.
Jul 25th, 2012
Someone from New Kensington, PA signed.
Jul 25th, 2012
Someone from Alamogordo, NM writes:
There is/are thousands of years of empirical data now being proven by greater evidence of scientific experimentation as well as individual anecdotal testimony concerning the use and ability of fresh all natural foods (and their various components in concentration and improved bioavailability), herbology (of most if not all ancient cultures), mushrooms, essential oils, homeopathy, exercise, physically therapeutic practices/modalities, oxygen saturation, light (especially sunlight [vitaminD, etc]), water quality and much,much more, often showing evidence of limiting and even retarding of disease and their symptoms and all kinds of health problems which each and every individual should have the right to use as they see fit and which are and should be available to them, the general public, without any human organization, governmental or otherwise controlling or using them to control, any portion/part of the public, individual or corporate. Our greatest problem is the REFUSAL to remember (and application of the obvious of) all human history, our past experiences and observing the present in view of our immediate and far reaching future(s). I am definitely advocating UNCEASING PRAYER as well as immediate and consistent action!
Jul 25th, 2012
Paul B. from Hackensack, NJ signed.
Jul 25th, 2012
Debra D. from Jamestown, CA writes:
Obamacare is only one of the most aggregious acts of tyranny this administration has crammed down the throats of We The People. It is high time for our "representatives" to represent US, our Constitution, and our inalienable rights; to live our lives freely with joy, peace, abundance and prosperity; freely to make our own decisions about our health.
Jul 25th, 2012
Tim V. from Falls Church, VA signed.
Jul 25th, 2012
Donna K. from Oshkosh, WI signed.