Help Repeal Obamacare - Act Now (H.R.6079)
FORCE HARRY REID'S HAND TO VOTE ON H.R.6079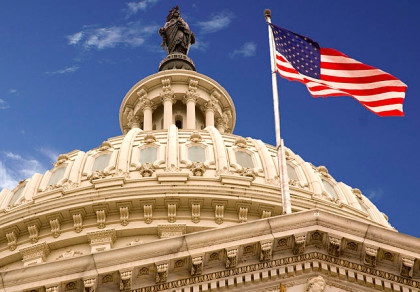 As you must know, the Senate has H.R.6079, the "Repeal of Obamacare Act" (otherwise known as the Patient Protection and Affordable Care Act), before it for consideration. The House of Representatives has voted thirty separate times to change or repeal the Affordable Care Act, only to have Senate Democratic leaders Harry Reid and Dick Durbin block any vote in the Senate.
I am writing to ask you to do the right thing and communicate my strong felt desire to Senators Harry Reid and Dick Durbin, and other Democratic Senators, to bring H.R.6079 up for a vote in the full Senate. As a taxpayer and voter, it is insulting that I have to even ask that Senators do what they are elected and paid to do. It is insulting that Senator Reid and Democratic leadership are putting politics and blatant partisanship ahead of what is right.
Senators are supposed to represent the views of their constituents and not use shady procedural moves to avoid voting on controversial matters, or to spin the individual mandate as a "penalty" when in fact it is a massive tax increase on middle-income Americans.
It is time to allow a true free market in health care, while at the same time getting the Federal government attack dogs to back down from their assaults on natural health care, supplements, and other alternative forms of medical treatments that "free" Obamacare will push aside from the marketplace. Instead of focusing on availability, Obamacare proponents need to be focusing on quality.
Obamacare is simply about power and control, and enriching the big corporations with money from those people who can ill afford it, all while delivering a very inferior government-controlled "disease-care" service loaded with drugs. Leaving aside the immorality of forcing individuals into a healthcare system they neither want nor would use, Obamacare will never achieve its publicly stated goals. It is a massive tax increase and extension of Federal government control over my constitutionally protected liberties.
The Senate must bring up H.R.6079 for a vote, and responsible Senators should vote to pass the bill.
Public Comments
Jan 29th, 2013
Someone from Succasunna, NJ signed.
Jan 11th, 2013
Someone from American Fork, UT signed.
Dec 29th, 2012
Heinz and Eva H. from American Fork, UT writes:
Obamacare is unconstitutional and Un-American. It must be defeated!
Nov 21st, 2012
Someone from Wilmington, NC writes:
This health care is a nightmare for Americans and as an elderly person who will be affected by implementing this horrible bill, I must come against it as strongly as I can. I will continue to fight it as America does NOT need this as "healthcare" It is a lie.
Nov 13th, 2012
David W. from Pocatello, ID signed.
Nov 1st, 2012
Jesse B. from West Linn, OR signed.
Oct 19th, 2012
Ramon Q. from Oklahoma City, OK signed.
Oct 5th, 2012
Kenneth C. from New Wilmington, PA signed.
Sep 20th, 2012
Someone from Carmel, CA signed.
Aug 27th, 2012
Carolyn T. from Discovery Bay, CA writes:
Senators are supposed to represent their entire state. I beg you to look inland (away from just the coast cities) and listen to the heart of your state, to the cry of these people who know(in part), what is facing them with this legislation and know they cannot afford it as well as are afraid of how it will ultimately impact their health and total lives. I do not doubt you KNOW the RIGHT thing to do, I just pray you will do it.
Aug 21st, 2012
Someone from Port Leyden, NY signed.
Aug 12th, 2012
Someone from Glendale, AZ signed.
Aug 10th, 2012
John P. from Hilton Head Island, SC signed.
Aug 8th, 2012
Thomas G. from Xenia, OH signed.
Aug 7th, 2012
Someone from Hanover Park, IL signed.
Aug 7th, 2012
K W. from Redwood City, CA signed.
Aug 6th, 2012
Roy & Vic R. from Snohomish, WA writes:
Obamacare is a ploy and we want NOTHING to do with it!!
Aug 5th, 2012
Linda B. from Concord, NH signed.
Aug 3rd, 2012
Someone from Hancock, NH signed.
Aug 2nd, 2012
James R. from Loveland, CO writes:
Being told you have to have health insurance or face tax penalties is NOT freedom!
Aug 2nd, 2012
Dawn C. from Wellington, CO signed.
Aug 2nd, 2012
Cathy J. from Pagosa Springs, CO writes:
No one, including the government has any business telling individuals what kind of health care, how much healch care, etc., that they can and must use.
Jul 31st, 2012
Barbara K. from Grand Lake, CO signed.
Jul 31st, 2012
Janet G. from Plainfield, IL signed.
Jul 31st, 2012
Deborah P. from Memphis, TN signed.
Jul 30th, 2012
Terry,Jana,Ian,Luke,Matt,Nate, and Jude C. from Cook, MN signed.
Jul 30th, 2012
Lorenzo N. from Temple City, CA signed.
Jul 30th, 2012
Jerry K. from Fresno, CA writes:
The educated people of this country do not want this abomination.
Jul 30th, 2012
Someone from Rittman, OH signed.
Jul 30th, 2012
Erin W. from Norwalk, OH signed.
Jul 30th, 2012
Charles S. from High Springs, FL signed.
Jul 30th, 2012
Someone from Denver, CO signed.
Jul 30th, 2012
Karen O. from Colorado Springs, CO writes:
This bill will ruin all of us. Get rid of it. It's not about health care.
Jul 29th, 2012
Mary D. from East Stone Gap, VA writes:
We are Americans, not Obama subjects. We should not be forced to buy anything from anyone. Period! Not by a free society.
Jul 29th, 2012
Elliot F. from Skokie, IL writes:
The true cost of Obamacare for taxpayers has never been fully documented ten years or twenty years from now. The only people who will benefit will be those who have no money and the pharmaceutical industry. Everyone else will be forced to pay higher and higher taxes as time goes on. Taxpayers need to know that Obamacare is unsustainable without higher taxes.
Jul 28th, 2012
Kristen H. from Lake Havasu City, AZ signed.
Jul 28th, 2012
Nancy H. from Columbus, NC signed.
Jul 28th, 2012
Robert S. from Carpentersville, IL signed.
Jul 27th, 2012
Nancy P. from Stewart, MN signed.
Jul 27th, 2012
Gary T. from East Hartford, CT writes:
I wonder if anyone else has considered; A govt run health system is the perfect instrument to fulfill another stated goal of the Agenda (perhaps that's why they are exempting themselves). Old people beware (its Logans Run, regardless of what AARP says) - you're not only excess population, you're a greater burden to the system. But heck, that's just Orwellian conspiracy nut-case stuff, right ? On a more acceptably believable note; It's a fact, nothing comes for free. England and other social med countries - 50-70% of income goes to govt (at least that's what the UN stats say). Eventually, the govt will have to dream up new ways to offset the inevitable budget faults. They will surcharge everything possible and prone to scapegoat taxation, similar to the tobacco excise tax. All they'll need is an excuse - alcohol, soda, high fat/cholesterol foods, playing dangerous sports (like football), owning guns, a pool, fireplace, driving more than 10 miles to work . . . if not that, than medical choices will become prone to cost-justification protocols (a recent article claimed that approx 150k old people in England were euthanized with uncertainty) If not now, it will eventually - likely both - I assure you. As far as myself - I'll be damned if I let anyone stick me with a 'vaccine', or chemo drugs or anything else against my will. As far as I'm concerned, that's equivalent to rape. And if they penalize me, I'll sue the gov if I have to.