Help Repeal Obamacare - Act Now (H.R.6079)
FORCE HARRY REID'S HAND TO VOTE ON H.R.6079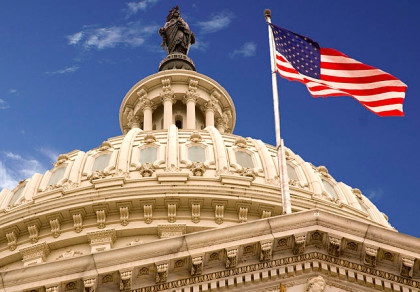 As you must know, the Senate has H.R.6079, the "Repeal of Obamacare Act" (otherwise known as the Patient Protection and Affordable Care Act), before it for consideration. The House of Representatives has voted thirty separate times to change or repeal the Affordable Care Act, only to have Senate Democratic leaders Harry Reid and Dick Durbin block any vote in the Senate.
I am writing to ask you to do the right thing and communicate my strong felt desire to Senators Harry Reid and Dick Durbin, and other Democratic Senators, to bring H.R.6079 up for a vote in the full Senate. As a taxpayer and voter, it is insulting that I have to even ask that Senators do what they are elected and paid to do. It is insulting that Senator Reid and Democratic leadership are putting politics and blatant partisanship ahead of what is right.
Senators are supposed to represent the views of their constituents and not use shady procedural moves to avoid voting on controversial matters, or to spin the individual mandate as a "penalty" when in fact it is a massive tax increase on middle-income Americans.
It is time to allow a true free market in health care, while at the same time getting the Federal government attack dogs to back down from their assaults on natural health care, supplements, and other alternative forms of medical treatments that "free" Obamacare will push aside from the marketplace. Instead of focusing on availability, Obamacare proponents need to be focusing on quality.
Obamacare is simply about power and control, and enriching the big corporations with money from those people who can ill afford it, all while delivering a very inferior government-controlled "disease-care" service loaded with drugs. Leaving aside the immorality of forcing individuals into a healthcare system they neither want nor would use, Obamacare will never achieve its publicly stated goals. It is a massive tax increase and extension of Federal government control over my constitutionally protected liberties.
The Senate must bring up H.R.6079 for a vote, and responsible Senators should vote to pass the bill.
Public Comments
Jan 13th, 2015
Michael W. from Hatboro, PA signed.
Jan 7th, 2015
David W. from Pocatello, ID signed.
Jan 2nd, 2015
Someone from Lindenhurst, NY signed.
Dec 22nd, 2014
Someone from Durango, CO writes:
Obamacare forces you to pay the masters of the medical industrial complex. Sure do miss that country created in 1776!
Dec 7th, 2014
Someone from Pittsburgh, PA writes:
Roosevelt was smart & insightful for not implementing a mandatory health care that was proposed during the Depression as part of the New Deal.
Nov 30th, 2014
Christopher S. from New Carlisle, OH signed.
Nov 14th, 2014
Someone from Rough And Ready, CA writes:
Put yourself in place of other people instead of yourself.
Oct 26th, 2014
Susan H. from Waxhaw, NC signed.
Oct 26th, 2014
Someone from Hialeah, FL signed.
Oct 25th, 2014
MC H. from Carlsbad, CA signed.
Oct 24th, 2014
Someone from Lawton, OK signed.
Oct 24th, 2014
Harve P. from Jackson, MO signed.
Oct 24th, 2014
Sandy J. from New York, NY signed.
Oct 23rd, 2014
Alicia P. from Biggsville, IL signed.
Sep 30th, 2014
Jack P. from Buffalo, NY signed.
Sep 29th, 2014
Someone from Fort Worth, TX signed.
Sep 1st, 2014
Karina M. from Holiday, FL signed.
Aug 23rd, 2014
Chris D. from Vancouver, WA writes:
I look forward to your support and thank you in advance for your understanding. Stand up and do the right thing, in releasing the citizens of this great land free. From the continued tyranny of the Medical Giants, and Legal Drug Dealers that seek total power and control of the populace! Revive the freedom of choice that is the birthright of every legal American! Get off the French and lead by example! Stop with all the talk, and let your actions speak louder than all your campaign promises! Do not forget, you are an elected public servant. Live up to your affirmed oath to support and defend the constitution against all enemies - domestic first in this case, to include foreign!!! All eyes are on you this very moment...
Aug 22nd, 2014
Lori F. from Sun City, CA signed.
Aug 15th, 2014
Maureen P. from Palm Bay, FL writes:
Break the chain of influence between drug companies, medical schools, medical journals, and the media. Outlaw drug money influence over all these institutions. End pay for delay, import cheaper medicine from Canada, and negotiate for lower drug prices like the VA, Open, improve and expand Medicare for All, get rid of individual insurance mandates, and regard health care as a public good, not a commodity or privilege that the ACA enshrines. End the failed war on drugs, and reschedule marijuana.
Aug 15th, 2014
Shiu H. from Palm Bay, FL writes:
Support HR 676, S1782-Single Payer-Medicare for All citizens that includes alternative, holistic medicine, vision, hearing, dental and long-term care, and would save taxpayers billions, and prevent medical bankruptcies that continue. The ACA-Obamacare is unaffordable, inadequate, and unsustianable, and is not about making sure Americans receive quality health care with free choice. The ACA is a fraud,
Aug 14th, 2014
frank O. from Hillsborough, NJ signed.
Aug 13th, 2014
mamadou d. from Charlotte, NC signed.
Feb 2nd, 2014
shirley A. from Windermere, FL signed.
Dec 11th, 2013
Someone from Cary, NC writes:
Simply disgraceful that we can't even rely on our local governments to represent what the STATES need.
Nov 22nd, 2013
Siobhan J. from Mentor, OH signed.
Oct 7th, 2013
Emmalena D. from Apple Valley, CA writes:
Obamacare is unconstitutional, as well as a huge tax burden that will only drive us further into recession. As a hard working, taxpaying American I am so angry that this is being rammed down our throats by elitist politicians who only care about power and money.
Sep 27th, 2013
Someone from Spanaway, WA signed.
Sep 26th, 2013
Lori H. from Blockton, IA signed.
Sep 25th, 2013
David K. from Milwaukee, WI writes:
Please stop the illegal government takeover of our health care system.
Sep 24th, 2013
Robert L. from Dayton, OH writes:
My premiums are up, my benefits are down.
Sep 18th, 2013
Robert S. from Lafayette, LA writes:
Please defund. Do not become Wobbley!
Aug 13th, 2013
Connie G. from West Jordan, UT signed.
Jul 29th, 2013
phil s. from Anchorage, AK signed.
Jul 25th, 2013
Jeri H. from Troy, MO signed.
Jul 10th, 2013
Deborah P. from Ogden, UT signed.
Jul 9th, 2013
Michael R. from Oakland City, IN signed.
Jul 9th, 2013
Michael R. from Oakland City, IN signed.
Jul 9th, 2013
Michael R. from Oakland City, IN signed.
Jul 4th, 2013
Someone from Wallingford, CT signed.