Help Repeal Obamacare - Act Now (H.R.6079)
FORCE HARRY REID'S HAND TO VOTE ON H.R.6079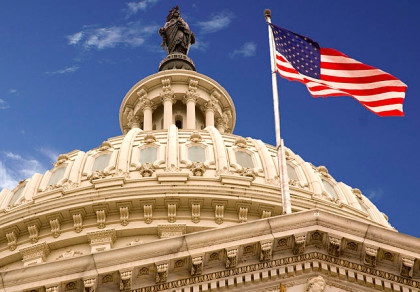 As you must know, the Senate has H.R.6079, the "Repeal of Obamacare Act" (otherwise known as the Patient Protection and Affordable Care Act), before it for consideration. The House of Representatives has voted thirty separate times to change or repeal the Affordable Care Act, only to have Senate Democratic leaders Harry Reid and Dick Durbin block any vote in the Senate.
I am writing to ask you to do the right thing and communicate my strong felt desire to Senators Harry Reid and Dick Durbin, and other Democratic Senators, to bring H.R.6079 up for a vote in the full Senate. As a taxpayer and voter, it is insulting that I have to even ask that Senators do what they are elected and paid to do. It is insulting that Senator Reid and Democratic leadership are putting politics and blatant partisanship ahead of what is right.
Senators are supposed to represent the views of their constituents and not use shady procedural moves to avoid voting on controversial matters, or to spin the individual mandate as a "penalty" when in fact it is a massive tax increase on middle-income Americans.
It is time to allow a true free market in health care, while at the same time getting the Federal government attack dogs to back down from their assaults on natural health care, supplements, and other alternative forms of medical treatments that "free" Obamacare will push aside from the marketplace. Instead of focusing on availability, Obamacare proponents need to be focusing on quality.
Obamacare is simply about power and control, and enriching the big corporations with money from those people who can ill afford it, all while delivering a very inferior government-controlled "disease-care" service loaded with drugs. Leaving aside the immorality of forcing individuals into a healthcare system they neither want nor would use, Obamacare will never achieve its publicly stated goals. It is a massive tax increase and extension of Federal government control over my constitutionally protected liberties.
The Senate must bring up H.R.6079 for a vote, and responsible Senators should vote to pass the bill.
Public Comments
Dec 3rd, 2016
Oli W. from San Rafael, CA writes:
Obama care has made medical practice insane. Those who get insured through medicaid or expansion are allowed to be superuser of medical care wasting public fund because they don't need to pay a penny and have nothing else to do. They come to office or ER every month or more often whereas hard working and responsible people must pay absurd premium and get 15 min visit when they finally find time to see their doctor once a year. Health starts with healthy lifestyle , which is personal responsibility but not pubic or government one.
Dec 1st, 2016
Jim C. from Tavares, FL writes:
Repeal it because we did find out what was in it.
Nov 29th, 2016
marvin t. from Kingsport, TN signed.
Nov 28th, 2016
Marietta V. from Dunedin, FL signed.
Nov 18th, 2016
Someone from Ettrick, WI writes:
My husband will be losing his employer sponsored health care at the end of 2016. His company is worldwide and the plant that he works at is the only one affected out of all of them. I am not employed full time so benefits are not an option. When we started looking at the Healthcare Marketplace we did not qualify for credits. We crunched some numbers and if I wasn't working we would qualify for credits and our premiums would be greatly reduced. Now that makes no sense to me that I should quit a job just to get credits for healthcare. I don't understand how this is helping the hard working people! The premiums are high and you can't afford to get sick or go the the doctor because after you pay the premiums you can't afford it!
Nov 18th, 2016
Someone from Anchorage, AK writes:
No one can afford obama care and it's just making medical insurance sky rocket.
Nov 16th, 2016
Someone from Anoka, MN signed.
Nov 11th, 2016
Helena H. from Leesport, PA signed.
Nov 8th, 2016
Rhonna S. from Bloomsburg, PA writes:
This is not the solution to nationwide healthcare. The premiums are increasing at a rate that ordinary people will never be able to afford the cost.
Oct 26th, 2016
Maeghan B. from Loganville, GA signed.
Sep 9th, 2016
Billie Jean O. from Metairie, LA writes:
My daughter had Medicaid up until a year ago because my income increased. I am a single parent who does not receive help from her father. I am forced to pay these high premiums or get fined every year? I thought Americans had a choice. It's either eat or pay for my health insurance?
Aug 30th, 2016
Adolph Z. from Danville, CA writes:
Lastly, How is it a good idea to make health care companies like Kaiser Permanent not be able to offer eye care for adults on any of their plans? Also, I am in a plan that is costing me more money than I can afford, but because it is only August 30th, I have to stay in that plan till open enrollment in January! How is this fair!
Aug 30th, 2016
Leonard S. from San Francisco, CA writes:
Democrats forced Obamacare on us. Even as this horrific healthcare law is starting to crumble before us, Democrats are still refusing to admit that this law has been a fiasco and needs to be repealed. Why should they? They do not suffer the consequences of their action. We pay the price! Whatever happened to freedom in this country? Since when did we become a communist state?
Aug 19th, 2016
Someone from Princeton, NJ signed.
Aug 19th, 2016
Someone from Princeton, NJ signed.
Aug 15th, 2016
Michelle F. from Los Angeles, CA signed.
Jul 16th, 2016
randy s. from Mize, MS writes:
Im personally against this inexcusable piece of paper which jonathan gruber help conjured up at mit of yale to jammed down the throats of american citizens who cannot afford to pay this******hole that aint worth ink it was sign with.
Jun 16th, 2016
Cora M. from Lookout Mountain, GA writes:
Yes, I believe healthcare costs are astronomical in the US. But we were managing to budget for private health care before ACA. Then, though we were promised we could "keep" our plan, dr, etc. we received a letter from our provider of 7.5 years stating that they would no longer be carrying our plan! We tried to find a comparable plan and couldn't find anything in the ballpark. No, after 2.5 years on the exchange we are paying DOUBLE (just in monthly premiums for lower quality care) what we were paying for our private healthcare previous to Obamacare and it is breaking us!
Jun 4th, 2016
Mark F. from Malverne, NY signed.
Mar 3rd, 2016
Diane C. from Shepherdsville, KY signed.
Feb 19th, 2016
Digna F. from Linden, NJ writes:
I am extremely dissapointed with obamacare. The president by signing Obama Care into law told the american people that they will get health insurance or be fined thousand of dollars.this is an attack on individual liberty. I make less than $ 40k a year and they told me that I have to pay $ 500 a month for health insurance With a deductible of $1,500 that makes it impossible for me to afford and utilize the "affordable Care Act" I was fined $490 this year from the IRS for no having insurance and it is not right. I am a very healthy person with no health issues and for prevention and wellness I used holistic care so I am not in need to visit a Dr or hospitals. Obama care is simple a redistribution of wealth where America are now taxed so others can afford health insurance. In a Classic Political Science we call this Communism.
Dec 4th, 2015
Someone from Chicago, IL signed.
Oct 23rd, 2015
Jomar G. from Los Angeles, CA signed.
Jun 25th, 2015
Someone from Toms River, NJ writes:
ANY LAW that eliminates "CHOICE" should be UNCONSTITUTIONAL.
Jun 25th, 2015
Dominick L. from Haledon, NJ signed.
Mar 27th, 2015
Christina S. from Morgantown, PA signed.
Mar 6th, 2015
Someone from Washington, MI signed.
Mar 6th, 2015
Caroline B. from Weed, CA signed.
Mar 4th, 2015
Rosanna P. from Steubenville, OH signed.
Feb 10th, 2015
Karen L. from Warwick, NY signed.
Feb 10th, 2015
Raymond D. from Long Beach, CA writes:
Stop taking advantage of the disadvantage in the guise of individual rights!
Feb 9th, 2015
Shana S. from Pittsburgh, PA writes:
We were just notified today that our children will no longer be covered under the CHIP program in Pennsylvania and that we must buy into the market place (ObamaCare) that costs more and offers less. As a middle income family that cannot afford the occupational therapy our daughter needs without CHIP assistance, this is infuriating.
Feb 5th, 2015
Dominick L. from Haledon, NJ signed.
Feb 5th, 2015
Dominick L. from Haledon, NJ signed.
Feb 3rd, 2015
Nancy K. from Anaheim, CA signed.
Feb 3rd, 2015
John S. from Laguna Beach, CA signed.
Feb 3rd, 2015
John S. from Laguna Beach, CA signed.
Feb 3rd, 2015
STEPHANIE L. from Lexington, KY signed.
Jan 18th, 2015
Jacqueline P. from Milford, VA signed.
Jan 16th, 2015
Someone from Pittsburgh, PA writes:
High costs, low services? - Not even close to healthcare